J. Thaddeus Morgan, DMD is a premier dentist in Lake Mary, FL, serving all of Central Florida. Dr. Morgan has served as a leader in the dental field serving as chairman of the Board of Dentistry, State of Florida; Delegate to the American Dental Association, as well as presented with a leadership award for Florida Dental Associates. Dr. Morgan is also still serving on the Probable Cause Panel, the Florida Board of Dentistry which oversees patient's complaints related to dentistry.
Dr. Morgan is also a founder of the Dental Care Access Foundation, which provides dental and oral surgery to help people suffering from dental emergencies, particularly the underinsured. Dr. Morgan is committed to the best interests of his patients, encourages them to ask questions, and strives to make each visit a pleasant experience.
Honorary Memberships:
Founder of:
Dental Care Access Foundation – for indigent care and the underinsured
Florida Prevention Association – for at-risk kids
As a dentist, Dr. Morgan has the ability to help. Much more than just fixing teeth, he cares for and can help restore people's dignity, as well as educate on how dental health affects overall health. It's a special talent that God has given, which he takes very seriously.
Dr. Morgan has been a dentist for more than 25 years here in Lake Mary and loves what he does. The people he has met and built relationships with, hold such a special place in his heart. It is so gratifying when his patients actually look forward to their visits, especially those who hated going to the dentist in the past. That means we're doing our job and is the best compliment we could get.
Education and Continued Learning
Winter Park High School
Florida State University, Bachelor of Science in Biology and Sociology
Medical University of S. Carolina, Doctorate of Dental Medicine
University of Florida, post-doctorate education
By continuing to learn and add the newest advances in dentistry to our practice, Dr. Morgan and the team are able to give our patients the best treatment options available. He received his Mastership in the Academy of General Dentistry by completing more than 1300 hours of continuing education in multiple disciplines and passed a rigorous examination. In addition, he is certified in laser dentistry and Invisalign®.
On a Personal Note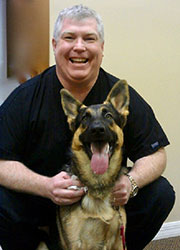 Dr. Morgan grew up just down the road in Winter Park and has lived in Lake Mary for 20 years. He met his wife Jill when attending dental school in South Carolina. They have a son, Reed, who is in law school at FSU, as well as a spoiled German Shepherd named Sasha. He comes from a large family, all of whom live in Central Florida.
His time outside the office is spent on the boat or at the beach, hosting cookouts, attending baseball games, traveling, and scuba diving. If there's water, he's probably there.
Leadership Positions
Chairman, Board of Dentistry, State of Florida
Probable Cause Panel, Board of Dentistry, State of Florida
Chairman, Florida State Dental Exam
Northeast Regional Dental Board, Examiner
Delegate, Representing Florida, American Dental Association
Board of Directors, The Florida Acedemy of General Dentistry
Board of Directors
Bianiconi Foundation for Spinal Cord Research (1997 – 1999)
Winter Park Sports Hall of Fame (2001 – Present)
Florida Prevention Association (2005 – 2009)
Boys and Girls Club of Eatonville (2006 – 2008)
Central Florida Doctor Magazine-Advisory Board (2007-2008)
Board of Dentistry, State of Florida
Committee on Access to Care, Governor's Task Force
Academy of General Dentistry-Central Florida (2007-2009)